Within the context of Hybris, CEA researchers are leading the development of an innovative and smart Advanced Battery Management System (ABMS), on the edge of control systems and battery management systems.
ABMS core ideas
The essence of the ABMS is to enhance battery management by monitoring and analysing battery operation to compute key indicators for the system control management. The main strength of the ABMS is its ability to diagnose present state to predict the future battery performances, using powerful and complex battery modelling. The ABMS is agile in a sense, as its embedded battery models are self-updated, learning from data operation to improve models' accuracy.
ABMS services in a glance
The ABMS embeds multiple services, organized in four main categories:
ABMS solution diagnosis services.

Follow up battery performances and BMS indicators quality assessment.

ABMS solution prognosis services.

Prognosis of performances evolution including ageing impact.

ABMS solution control services.

Enhanced battery system management

ABMS solution update service.

Fine-tune ABMS battery model parameters mapping.
Interdependencies between services are shown below.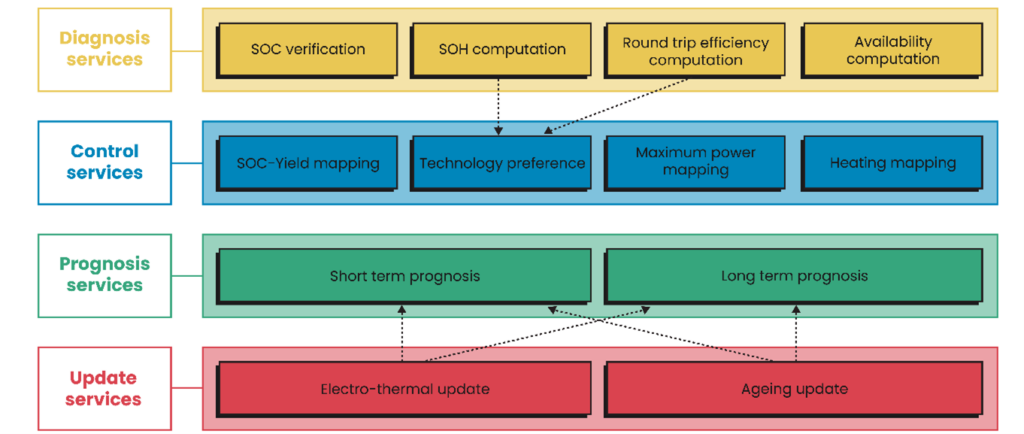 ABMS implementation in the Hybris project
The developed ABMS services offer reliable tools to track the hybrid Lithium Titanate Oxide (LTO) and Aqueous Organic Redox Flow Battery (AORFB) batteries demonstrator performances and assess their progression with ageing. Based on real conditions, the ABMS provides operation analysis, lifetime prognosis and control Key Performance Indicators (KPIs) to the Energy Management System (EMS) for battery management optimization. We developed the ABMS algorithms in the intent to be versatile, thus not technology related.
The ABMS is able to simulate the battery behaviour to bring valuable information at the management strategy level, and thus reduce maintenance and operation cost. It performs regular updates of embedded battery models to ensure reliable and accurate performances prognosis over the battery system lifetime.
The conducted development ends to containerize each service in a view of integration within a cloud-based Software As A Service (SAAS) environment, centralizing power computation needs. This modular setup is key to ensure a progressive and adaptive solution, enabling new services creation and high connectivity to multiple battery technologies and site locations over the world.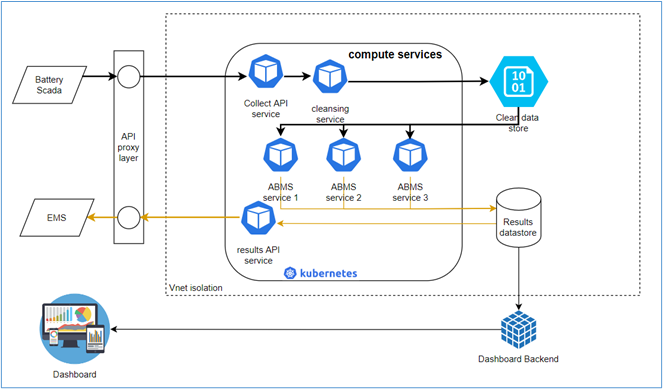 ABMS: Coming next…
As a decentralized solution, the ABMS cloud-based solution enables to address multiple site's locations across the world. Nevertheless, it relies on efficient and stable internet connection. To address remote location or isolated system, we investigate an embedded solution with key services to ensure optimum battery system management over lifetime operation.
The current ABMS is a self-upgradeable solution, with continual learning based on operation data, and its services were developed without battery technology dependence. Based on this basis, the ABMS is challenged to integrate new battery technologies.
The ABMS solution will be setup for the first time on Hybris demonstrator. This versatile solution presents high benefits for storage system operation and uses for a wide range of applications are already considered.
Written by Tom Dollfus, Maxime Montaru, Laurent Vinit, Fathia Karoui and Mikael Cugnet, from CEA